During our Disney trip: Me: Riley do you know the names of Ursula's pets? Roo: Yeah! Flap Some and Get Some!! (Flotsam and Jetsam are their names, as in what floats up from a shipwreck)
Roo: Mom, when I grow up I want to be a Disney bus driver! Me: That sounds like fun, driving people to Disney all day! Roo: Yeah, I'll be a ballerina, a paleontologist and a Disney bus driver!
Roo: (Washing her hands in the bathroom) Oh...it doesn't come on by itself here...No Disney Magic, huh? Me: Nope we left that at Disney Roo: Next time let's catch some (Disney Magic)!
Roo: (Sigh) Mom? Me: What, Riley? Roo: I just want to know why my Ariel doesn't come alive and flop around here. (referring to their toys coming alive and moving by Disney magic (aka housekeeping) when we left the hotel)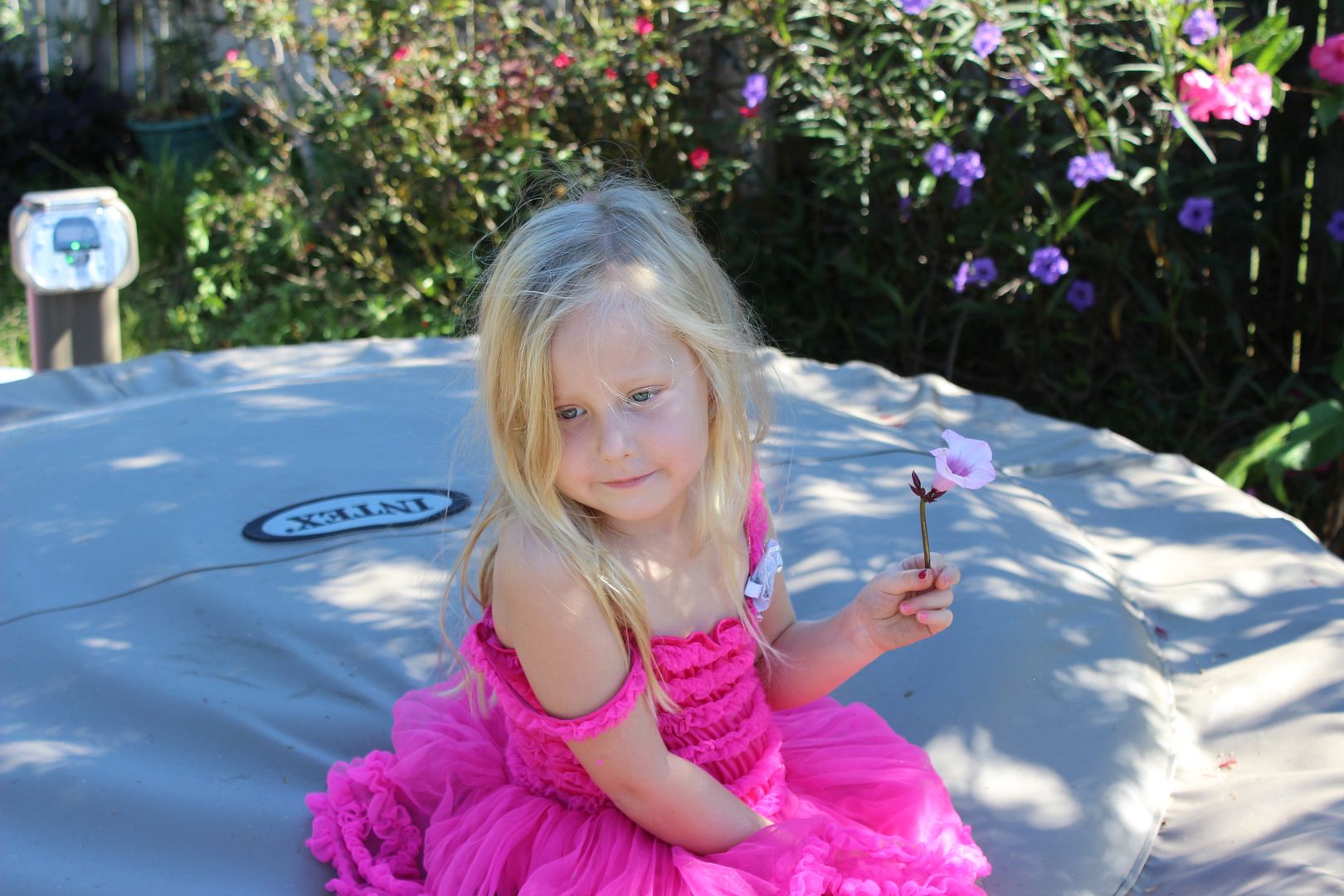 Me: What did you do at school today? Roo: Made a letter S snake! With black pola dots. Me: That sounds awesome Roo: Yeah. Mom? What does awkward mean? Me: Not quite right, doesn't fit in. Roo: Mine is awesome, but my friends were...awkward, but I didn't tell them
Miss Roo recently regained possession of her Barbie Shoes. Roo: I'll hang on to these shoes! Me: Good idea, you don't want to loose them now that you have them back Roo: Yeah! That would be unpleasant.
Me: I need you to clear your place, Riley Roo: Ugh, stop criticizing!
Riley goes out to visit her dad while he's working in the yard. She runs back into the house and gets a quarter. Roo:(gives the quarter to her dad) You're working hard, here's a tip
Half pjs half play clothes after nap. Me: What's going on with your outfit? Roo: The top half is adorable, the bottom is completely awkward
At her cousin's birthday Riley's aunt opens a new dress Roo: That's exquisite! (Various adult react, surprised) (leaning in closer to her aunt) It's divine.
Playing Barbies in her room Roo: Ok, concert time! (singing) Let it Go! Let it Go! (A few minutes go by) Roo: (singing) I got a bucket! Got a bucket full of sunshine! I got a bucket! Got a bucket! Bucket full of sunshine.
(Last Year's Haunted Hike)
Me: You're going to be good this year, right? You had a fit in the car last year and we almost missed it. Roo: Yeah (thinks), if you're not good at the Haunted Hike Jack will tell Santa! Me: You're right they totally know each other. Roo: Yeah, they totally know each other because Jack needed a hat.